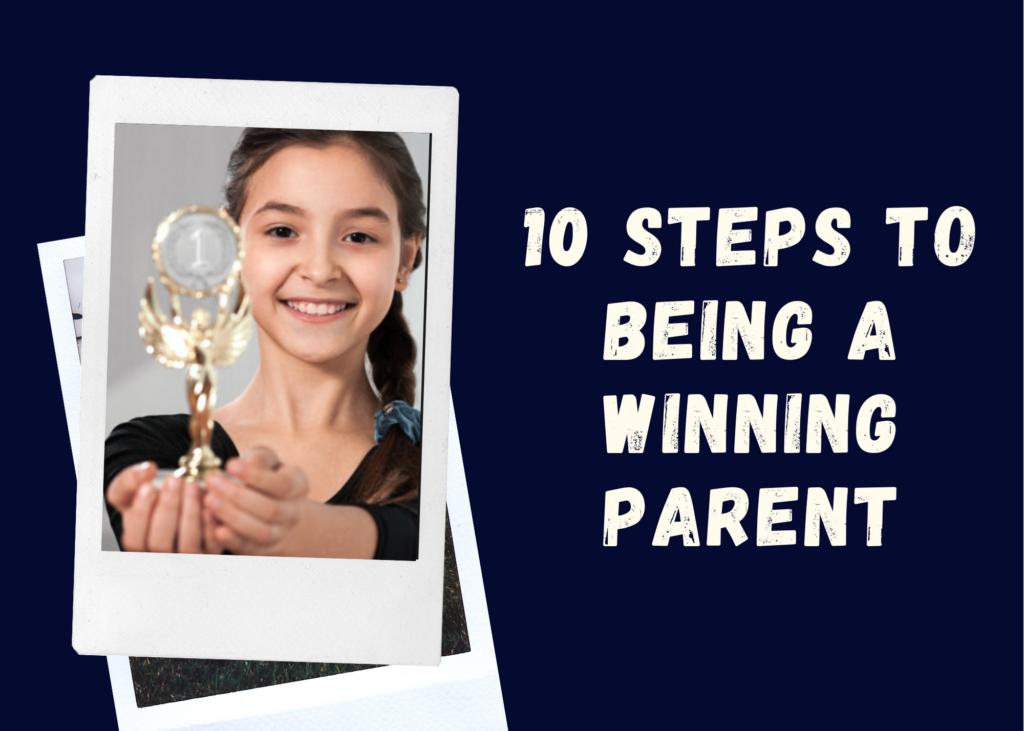 Hello, sports parents! Your child and the coaches need you on the team! Yes, you can help your children to become winners, who feel good about themselves each and every day and have a positive attitude towards sports! You are a very important part of the team and if you do your job well, then your child will perform better while having fun and being happy with what he is doing.
Positively involved parents encourage their children to improve skills faster, perform better, be self-confident and truly love the sport they are involved in. There are so many things you can do as a parent to improve the chances of your child to win – start with taking the following 10 steps to become a winning parent!
1. Take care of healthy nutrition and daily regime
Performing at your athletic best starts with a healthy diet and daily routines. Getting the proper nutrition is essential for young athletes to operate at their peak capacity. As a parent you have to make sure that your child eats balanced meals and snacks to get the nutrients needed to perform well in sports. Check out this Nutrition Guide for Young Athletes to discover the best ideas about meals that help children maximize their training results. Also make sure that your child has at least 9-10 hours of sleep and spends at least an hour a day outside.
2.Build up your child's self-esteem and self-confidence
Young athletes' performance highly depends on how they feel about themselves. Give your child the greatest gift of self-esteem by creating a series of positive interactions to help your child become a self-confident and mentally strong person. This doesn't mean that you have to undeservedly praise your child or constantly compliment him – sometimes you just have to be sympathetic and sensitive to your child's mood and feelings.
3. Avoid comparisons with other teammates or competitors
Comparing your child with his teammates or competitors to evaluate his performance is a bad idea. Parents of young athletes should remember that each child develops differently and as long as your child is having fun from his sport, he is exactly where he is supposed to be. So, try to avoid useless comparisons and prevent your child from comparing himself with peers in a destructive way. However, comparisons may have a constructive potential if made properly – for example a better performing child can be a model to demonstrate proper technique.
4. Teach your child to treat their competitors as training partners
Athletic competition teaches children a variety of important life skills including dealing with challenges and obstacles. Explain your child that a competitor is not an enemy but a person who motivates him to reach a peak performance. With a worthy opponent and more challenges sports is much more fun. Root for great performances, good plays, not just for winning.
5. Teach your child to loose properly
Most bad performances happen when athletes have been preoccupied with failing. One of the most valuable things that parents can teach children is that failures that sometimes happen should be used in a positive way. Treat losses as a stepping stone to success, a source of motivation and an opportunity to improve. Each time your child loses he gets valuable insights on how to do it better next time.
6. Encourage your child to to compete against his own potential
Remind your child that winning in sports means doing your own personal best. When your child plays his very best and loses, you need to help them feel like a winner! As a parent you should encourage your child to compete against himself to continually improve their skills and results. Shift your child's focus to constant improvement and always stress the progress, not the outcome.
7. Become your child's biggest fun and don't coach
Unconditional love – is what all children need to be happy and positive about themselves. Your attitude to your child and the way you treat him should never depend on his sport results! Be supportive and involved in your child's sport, provide encouragement and empathy, but don't interfere with training matters – leave coaching to coaches.
8. Don't mix your goals with your child's goals
Many parents get into that trap of emphasizing results or pushing skills development over all other aspects of a child's life and taking too close to heart their success and failure in sport. While it's totally OK to want your child to excel and be as successful as possible, it's not fine to pressure your child with your expectations or use guilt to keep them involved.
9. Form a healthy attitude toward sport in your child and yourself
Competitive young athletes as well as their parents tend to take sport and sport results too seriously which can cause a bunch of physiological and relationship problems in future coming from unrealized expectations. Treat sport healthy – as just one, although important, aspect of your child's life. Healthy attitude to sport starts with parents, so enjoy your child being active and developing skills.
10. Remind your child that sport is fun
Most of the kids in competitive sports tend to become obsessed with winning or loosing and forget to enjoy everyday sports routine. Teach your athlete to rejoice as his skills improve, appreciate friendship and funny moments with the teammates, find positive things in everyday practice. The more fun children are having from sport, the faster they will learn and the better they will perform.
As a parent, you have the most important role in the development of your child's life skills, and sport is not an exception. So, when it comes to sport treat your child with love and respect, helping him to build self-confidence and self-esteem, providing constant support, caring about your child's physical and emotional needs and making everything possible to make your child happy about what he/she is doing.