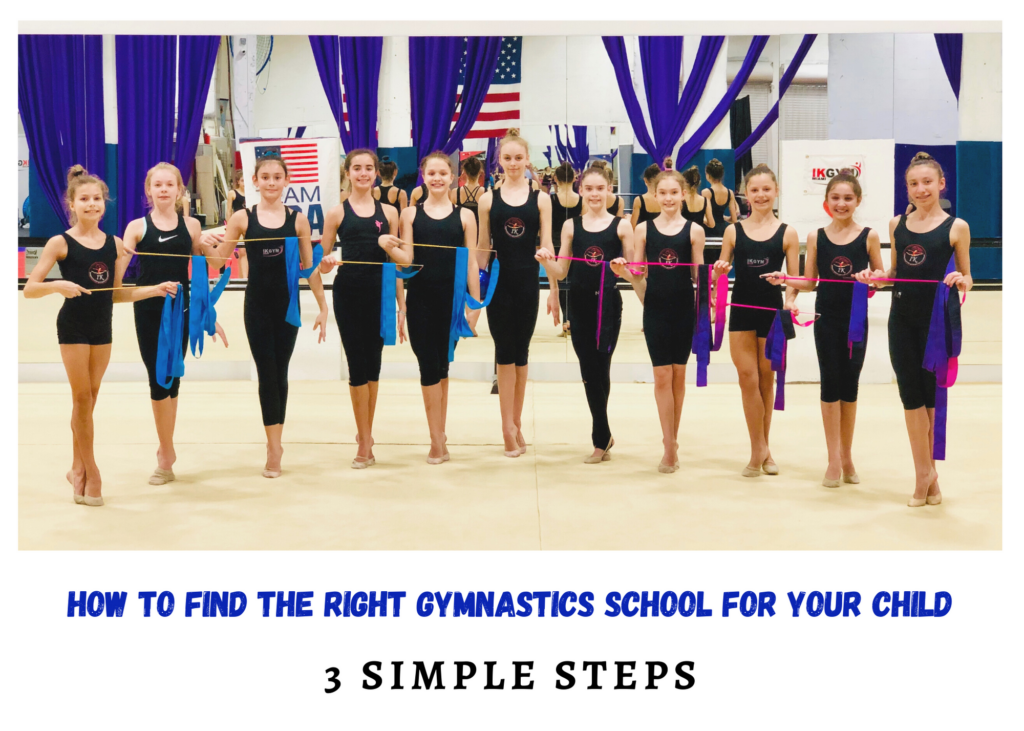 The interest in rhythmic gymnastics in Miami is constantly growing. Unlike 10-15 years ago, today there are a bunch of really great rhythmic gymnastics schools in Miami providing children with an opportunity to participate in state, regional, national and international rhythmic gymnastics competitions. Each year new rhythmic gymnastics schools arise in Miami area. In these conditions choosing a rhythmic gymnastics school in Miami can be very confusing. 
To help parents of rhythmic gymnasts choose a rhythmic gymnastics school, we prepared this step-by-step guide, which indicates the main things you should consider when looking for the best rhythmic gymnastics school for your child. Hope it works!
3 Simple Steps to Choosing Rhythmic Gymnastics School for Your Child
Step #1 – Indicate the purpose of putting your child into a gymnastics class.
The first step is very important, because it determines the next steps. Your needs vary significantly depending on such things as:
Is your child just starting out?
Or she is already a professional athlete?
Is your main goal to built your child's strength, balance and flexibility, confidence and self-esteem?
Or you think that your child is able to go far and become a professional athlete?
If the primary goal of putting your child in gymnastics school is fun and becoming more healthy and fit, it's reasonable to find gymnastics classes nearby, with sweet teachers, who'll be able to develop in your child interest in sports.
In case you are intended to raise a professional athlete from the very beginning, look for a rhythmic gymnastics school with the best gymnastics coaches in your area, which have proper training facilities and rank high at national rhythmic gymnastics events, and be ready to invest time in bringing your athlete to that school if it is far from your place.
The good news is that among the 125 clubs, registered as members of USAG by September 2018, 11 are in Florida, and more than half of them are located in Miami area, which increases your chances to find a great rhythmic gymnastics school facility within easy reach.
Step #2 – Make a list of all rhythmic gymnastics schools in Miami within your reach, to choose from. Now, when you know your primary goal, it'll be much easier to find the best rhythmic gymnastics school for your child. If your main purpose is fitness and fun, choose from the most conveniently located rhythmic gymnastics schools in your area, with bright, colorful interior and various rhythmic gymnastics programs.
If your primary goal is raising a competitive gymnast, or if your daughter is already a highly skilled athlete, your second step is to choose the best rhythmic gymnastics school in Miami, you can afford. To identify the top gymnastics schools in Miami you can try the following:
Find out how a rhythmic club is performing at regional and national gymnastics events. You can easily do that by analyzing competitions results for several past years, which are usually easy to find on the Web, as they are published by USA Gymnastics after each event on their Website and then are being copied to other resources.
Check out the Rhythmic Gymnastics National Teams for the current year and past years too. If you manage to find one of your local rhythmic gymnastics school athlete's name there, it means you are very lucky, because this means you have one of the elite rhythmic gymnastics schools in the USA nearby.
Check the sports background of gymnastics coaches in selected schools. The top performing rhythmic gymnastics schools tend to recruit elite rhythmic gymnastics coaches, who are recognized throughout the world. Miami has one of the largest Russian-speaking communities in the United States, and the best rhythmic gymnastic coaches from Russia, Ukraine, Belarus, and Bulgaria move here to bring up the sports of rhythmic gymnastics in Miami.    
Step #3 – Bring your child to a trial class to ALL selected schools. Yes, right, you shuld visit each of rhythmic gymnastics schools that you indicated as possibly suitable. No matter how perfect a rhythmic gymnastics school is, nothing works, if your child doesn't like the atmosphere at the gym, or a coach. You determine a range of gymnastics schools, you can afford, but your child should make the final decision. It's your child, who is going to work out really hard for many hours at that gym. No matter how young she is – even small kids can choose intuitively.
Most of rhythmic gymnastics schools in Miami area encourage walk-in visits and allow you to schedule a trial class. In the meantime, while your child is taking her first gymnastics class in a new school, make sure that the program is presented in an age-appropriate manner and the gym is clean and take your time to ask the staff the following questions:
Is their gymnastics school a USA gymnastics member club?
Are their coaches certified members of USA Gymnastics?
What are their student to coach ratios?
Do they have all necessary equipment for gymnastics?
How the interaction between the school management and parents is carried out? (newsletter, website, group chats, etc.).
What is drop off and pick up policy?
Following these three simple steps will help you easily choose a gymnastics school for your child. You might choose one that will develop your child's maximum potential, or a gym that will require you to re-evaluate in a few years. Either way, what matters is that your child is having a positive gymnastics experience.
Looking for rhythmic gymnastics classes in Miami area?
IK GYM Miami is a perfect place to start! We are focused on training kids in a safe and fun environment. We offer recreational and competitive rhythmic gymnastics programs for kids of all ages. We are proud to have one of the largest competitive rhythmic teams in USA, which is traditionally ranks high at state, regional and national rhythmic competitions.
IK GYM Miami is conveniently located in North Miami within 15-25 min drive from Sunny Isles Beach, Aventura, Hallandale Beach, Hollywood, Dania Beach, Bal Harbour, North Miami Beach, Surfside and Miami Beach. Call 786.590.6666 & 786.350.6655 or contact us at [email protected] to schedule free trial class, take a tour to the gym or get more information on our rhythmic gymnastics programs.